The release of Windows Vista introduced a refreshed and redesigned user interface (UI) for Windows users, but although the interface features a lot of eye candy in terms of animations and dynamic visual effects (such as blur filters for its glass), it fails at getting the basics right—font alignment. Whenever I switch from using Mac OS X to Windows Vista, the differences in typography on the UI jump right out at me—or indeed, the errors that are present on one of these systems.
As Steve Jobs has said himself, one of the few classes that he enjoyed while he was still at university—or rather the class that he took for fun (while dropping out from others) was in typography. I believe typography and typesetting are one of the things that Mr Jobs really cares about when he develops his products or communications. Apple's marketing material, Apple's product packaging, Apple's OS UI—they all feature beautifully designed fonts that are carefully aligned and set in the right size and weight for the job at hand. On the Mac OS X UI, everything fits where it should be, the fonts are pixel perfect on any menu bar or message. Many of the control fonts that are present in buttons and menus are also of heavier weight and size, meaning they are much easier to see, making the whole system more usable and accessible.
OS X: Large system fonts make the interface more accessible

Windows is a completely different affair. Here, fonts seem to be taken for granted, the actual message that they carry seems to be the most vital aspect—so vital in fact it seems that font alignment and selection is barely considered. The new Windows UI font, Segoe UI, introduced a little more style into the system, but from a personal perspective I really dislike it. It is very small and thin, meaning it is difficult to see at small sizes (and most UI fonts are small in Windows). The messages and control labels are misaligned in many cases and there is almost no font differentiation—the size and weight is the same, whether it be a button, or a label, leading for poor user experience for those who notice these things and can appreciate good typesetting.
Vista UI features the same font throughout, not even changing its size or weight, resulting in no focus on any particular element

Who has it right, Apple with its beautiful fonts or Microsoft with its functional UI? In the end, this is not an 'or' question. The OS X UI is functional, but in addition to that it is also beautiful. The Windows UI indeed serves a function, but the overall polish is incomplete. The designers have set off on the right road with the Windows Vista UI, you can see that they really wanted to make the whole system look nicer, but they never got the polish right. Fancy glass and animations have added the 'wow' factor, but the details have not been ironed out fully.
Vista: Tiny, thin fonts are not making the best use of the space available

Do people care about these small things? Macintosh users certainly love their systems, so much so that the Mac community is almost religious. This love is built up from small things—things that make the user experience better: the simple uncluttered UI, the quick shortcuts, the simple drag and drop mechanisms… and in addition to this, I believe, the well designed and positioned fonts.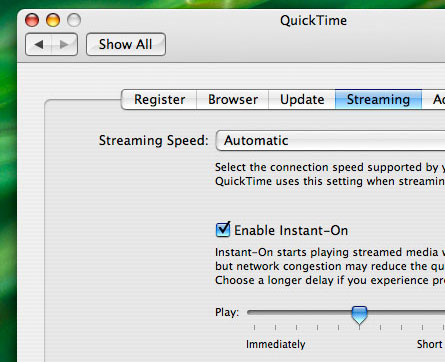 OS X: Clean and elegant interface, with simple relationships indicated by visual structure and typography

If you wish to develop a really good UI for electronic or print communication, and this does not only apply to operating systems or marketing posters, this applies to everyday documents and presentations—then you should care about fonts and typesetting. This is only one facet of good design, but if you are serious about making great products, then you should never ignore any facet and make sure you get everything right. I really hope the Microsoft design team has some time to spend on realigning and redesigning some of the fonts for future Vista updates, but in all honestly I cannot see this happening.
I believe the culture at Microsoft (as well as that in 90% of today's big corporations) is to deliver features, because features translate into selling points, and selling points sell products. The selling points for Microsoft's products don't include typography, and don't focus highly on presentation because of the nature of the business - it's B2B (business to business). While Microsoft gets the majority of their revenue from business sales, Apple sells to consumers (B2C), which means presentation matters a lot more.
Making sure your product has well designed and set fonts has a blurry ROI (return on investment)—people who do not really care about their products, do not value the impact of great design. I think this is a real shame, because little things like this all add up and in the end do make a really great impact on the user experience and how much they like your product. Apple demonstrated how getting these things right can create a powerful and loyal community who not only like your products, but love them. In the future, when you're making that new interface or that presentation slide, remember that typography is really important, so make sure you spend a little bit of time on it because quite frankly, nobody really likes to read ugly, misaligned text.